!***********************************************************************> <!***********************************************************************> <!** **> <!** National Rehabilitation Center For The Disabled **> <!** **> <!** **> <!***********************************************************************> <!***********************************************************************> <!***********************************************************************> <!** HEAD **> <!***********************************************************************>

<!***********************************************************************> <!** BODY **> <!***********************************************************************>
ACTIVITIES
---
Comprehensive rehabilitation services for PWDs

The Hospital offers diagnosis, treatment and medical rehabilitation of PWDs or potential PWDs.

Welfare services for PWDs

As a support facility for PWDs, the Rehabilitation Services Bureau assists PWDs through assessment of disabilities and provides welfare services that meet individual needs.

Research and Development (R&D) of rehabilitation technologies and assistive products

The Research Institute pursues improved QOL of PWDs through research and development of assistive products and conducts studies on medical, social and engineering issues related to rehabilitation.

Education and training of rehabilitation professionals

The College provides education and training for current rehabilitation professionals and future experts demanded in rehabilitation and related fields.

Rehabilitation and health promotion programs

The Hospital assists PWDs in health promotion and dissemination of adaptive sports.

Information services

The NRCD acquires information related to rehabilitation in Japan and overseas and makes it available to PWDs and people involved in rehabilitation.

International cooperation

The NRCD contributes to promoting rehabilitation of PWDs in developing countries.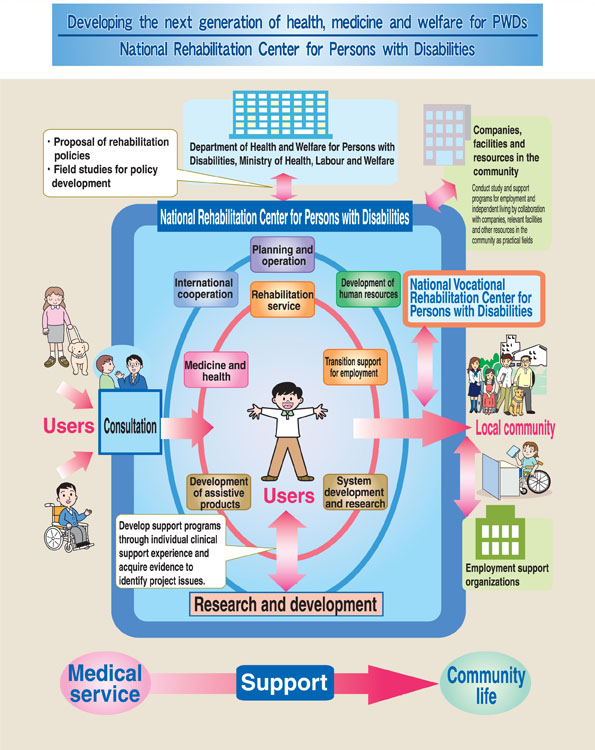 <!***********************************************************************> <!** **> <!***********************************************************************>
---
Back to HomePage <!***********************************************************************> <!** **> <!***********************************************************************>