Assistive Technologies
-- Empower You in Activities of Daily Living --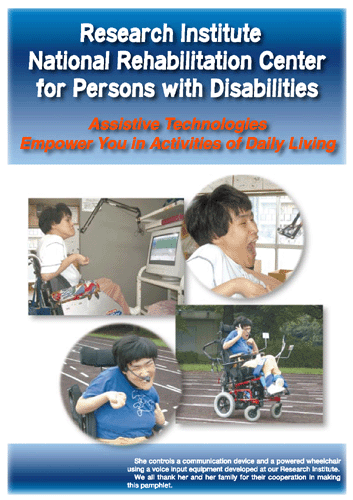 User Oriented Approach in R & D of Assistive Technologies
-- Towards Independence and Participation --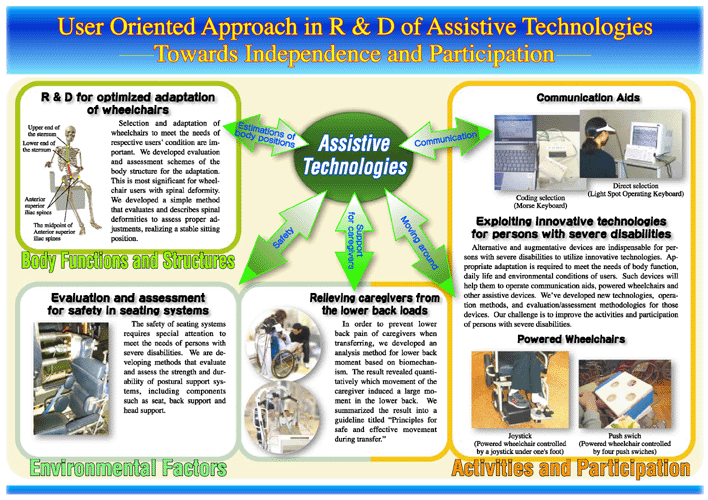 R&D for optimized adaptation of wheelchair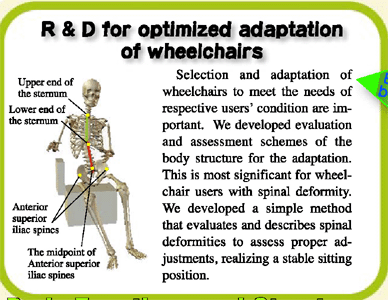 Selection and adaptation of wheelchair to meet the needs of respective users' condition are important. We developed evaluation and assessment schemes of the body structure for the adaptation. This is most significant for wheelchair users with spinal deformity. We developed a simple method that evaluates and describes spinal deformities to assess proper adjustments, realizing a atable sitting position.
Evaluation and assessment for safety in seating systems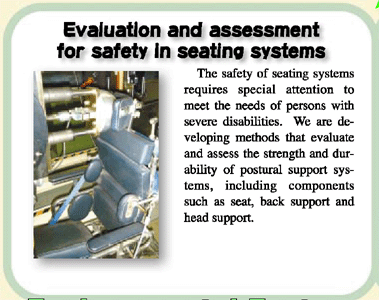 The safety of seating systems requires special attention to meet the needs of persons with severe disabilities. We are developing methods that evaluate and assess the strength and durability of postural support systems, including components such as seat, back support and head support.
Relieving caregivers from the lower back loads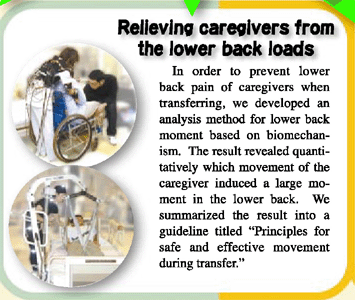 In order to prevent lower back pain of caregivers when transferring, we developed an analysis method for lower back moment based on biomechanism. The result revealed quanititatively which movement of the caregiver induced a large moment in the lower bask. We summarized the result into a guideline titled"Principles for safe and effecttive movement during transfer".
Exploiting innovative technologies for persons with severe disabilities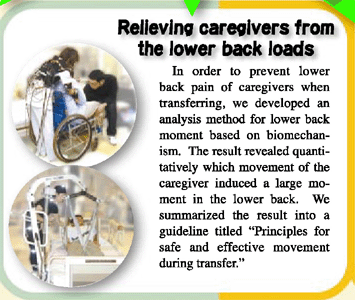 Alternative and augmentative device are indispensable for persons with severe disabilities to utilize innovative technologies. Appropriate adaptation is required to meet the needs of body function, daily life and environmental conditions of users. Such devices will help them to operate communication aids, powered, wheelchairs and other assistive devices. We've developed new technologies, operation methods, and evaluation/assessment methodologies for those of persons with severe disabilities.
Other devices intended for display
This Device Allows Deaf Blind People to Use PCs by Displaying Kana-Characters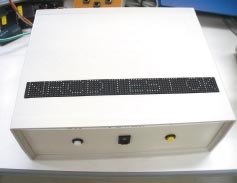 It is especially useful for deaf blind people who cannot read braille as it displays Kana-characters instead of braille. Deaf blind people are able to use any MS-Windows PC while touching the patterns of the displayed Kana-characters.
Software for PDA Supports People with Higher Brain Dysfunction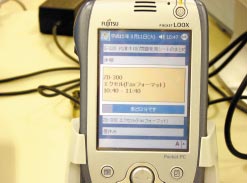 This software can illustrate work sequences and provide directions for people with higher brain dysfunction. It is under development in conjunction with the National Vocational Rehabilitation Center for Persons with Disabilities and the Meiden Software Corporation.
Electronic Dictionary of Sign Language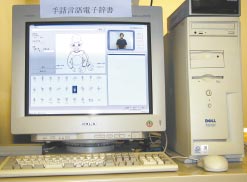 This electronic dictionary contains basic words in sign language used in the Japanese deaf community. Each word has an explanations of basic grammar particular to sign language are also available. This product will be available on DVD-ROM.
---
[Home Page]