MECHANICAL ENDURANCE TESTER FOR METALLIC KNEE OR ANKLE JOINTS FOR LOWER EXTREMITY ORTHOSES
---
Dept. of Rehabilitation Equipment, Research Institute,
National Rehabilitation Center for the Disabled,
Tokorozawa City, Saitama Pref., JAPAN
---
A mechanical endurance tester has been developed for checking the durability of metallic knee and ankle joints for lower extremity orthoses. The new machine allows flexible load setting for testing under different conditions.
Applicable to both knee joints and ankle joint-stirrup combinations, the tester is specially designed for knee joints which are subject to different loads. It features a special function to simulate three types of loads: compression, bending moment and torsional moment. These loads can be applied to each testpiece simultaneously or independently. The testing machine conforms to the Japanese Industrial Standards for testing metallic knee and ankle joints, and stirrups.
A load cell is integrated into the crank-connecting rod to detect test loads. Load patterns are expressed in sine waves. Test frequency ranges from 0.5 hertz to 3.5 hertz. The machine is driven by a single motor to synchronize the three types of loads. The tester is sized 600 mm in widths, 750 mm in length and 1,365 mm in height.
---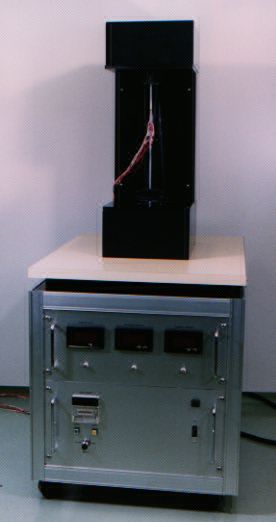 ---