Research Policy
The Department of Social Rehabilitation contributes to the independence of persons with disabilities, the promotion of social participation, the improvement of QOL and ensuring safety and, for the purpose of contributing to the accumulation of scientific knowledge, policy planning and human resource development, through the interdisciplinary efforts of social sciences / behavioral science / information science, is conducting research on social systems, information communication technology and views on disability in society and persons with disabilities. (Established in November 1986)
Research unit
 (April 1, 2023)
Acting Director - Satoshi Fukata
Senior Researcher - Kenji Gasawa, Ph.D. (Economics)
Research Fellow - Yufuko Takashima, Ph.D. (Linguistics)
Research Fellow - Tomo Odajima (Social Welfare)
Psychological Experiment Section
 Section Chief - Kai Seino, Ph.D. (Social Welfare / Psychology)
Disability Support Services Data Analytics Section
 Section Chief - Kumiko Imahashi, Ph.D. (Health Science)
 Researcher - Takashi Saito , Ph.D. (Gerontology)
Research Subject
Research and development of information systems and psychosocial techniques to support independence and social participation of persons with disabilities
Effective methods to support persons with disabilities during disasters (2017-2020)
We are accumulating good practices and developing materials on disaster preparedness for persons with disabilities.
Study relating to the construction of local inclusion care systems
Study on support system maintenance for persons with disabilities having difficulties using existing services (2018-2019)
Firstly, as a physical factor, population in various areas that provide all kinds of disability welfare services was calculated to obtain the population cover rate of all the 47 prefectures in Japan.
Next, focus was shifted to employment among persons with disabilities and a survey, teaching materials development and a workshop were implemented in cooperation with a number of institutions to examine psychosociology.
Estimation of demand for assistance dogs for persons with physical disabilities (2019-2020)
Prevention and solutions for poverty and social exclusion among persons with disabilities (2016-2020)
Clothes for persons with disabilities
Vocational rehabilitatio
ICT for disability welfare
Study on organizing a sustainable disability welfare system
Research on the construction of items in the prosthetic device grant provision system and the nature of standard price setting
We are doing the following: (1) creating a functioning classification of prosthetic device grants and module parts for them and (2) producing evidential data on surveys targeting supply companies for public pricing on prosthetic device grants. Through our research, we try to give information about the Prosthetic Device Grant System to all stakeholders: users, suppliers, people who provide support, medical professionals and government staff, and to contribute to the sustainable supply of devices with necessary and sufficient specifications for the users, and to their social participation and independence.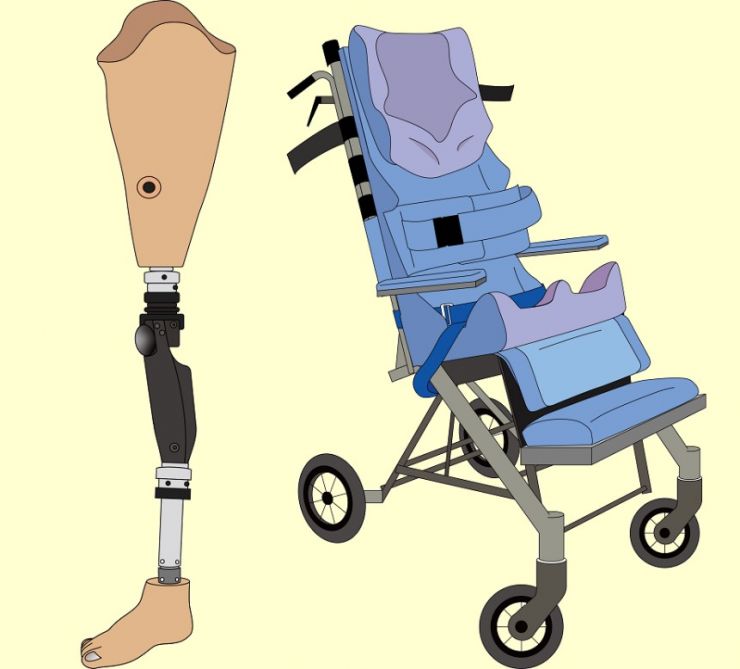 Samples of prosthetic devices:
Artificial leg / Seating system
Studies on the certification criteria for physical disabilities and disability statistics (2017-2019
Studies on the certification criteria for physical disabilities (2014-2016)
Studies on current trends in disability statistics (2014-2016)
Comparison of welfare systems for elderly persons with disabilities: independence support benefits for persons with disabilities and long-term care insurance (2017-2019)
Presentations/Publications (English only)
 Seino, K., Enomoto, Y. Issues for persons with disabilities in Japan to achieve SDGs: Poverty, employment, and education using national survey, The 18th Science Council of Asia Conference Abstract & Full papers. Tokyo, Japan. 2018. pp.1-6.
Contact Information
Department of Social Rehabilitation
Research Institute
National Rehabilitation Center for Persons with Disabilities
Address: 4-1 Namiki, Tokorozawa, Saitama 359-8555, Japan
Phone: +81-4-2995-3100
Fax: +81-4-2995-3132