Training of Rehabilitation Specialists
Training of Rehabilitation Specialists
NRCD accepted 862 rehabilitation specialists of 59 countries and region and provided information and technologies on rehabilitation through training for these 36 years. Ex-trainees are contributing to improve rehabilitation and develop human resources in own countries as leading persons.
Region
Over 80% are from Asia. 10% are from Latin America and the Caribbean who participated in JICA training programs.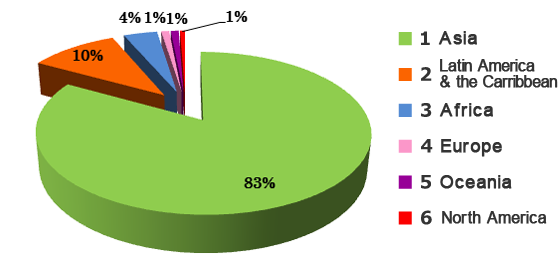 Total 862 people
Major field of the trainees
Around 80% of trainees are engaged in medical rehabilitation (physicians, physical therapists, prosthetists and orthotists and nurses). It means technical support to medical rehabilitation is expected to NRCD.
Even to specialists of medical rehabilitation, NRCD prepares training programs such as vocational rehabilitation and social skills training to promote understanding of overall of rehabilitation for persons with disabilities.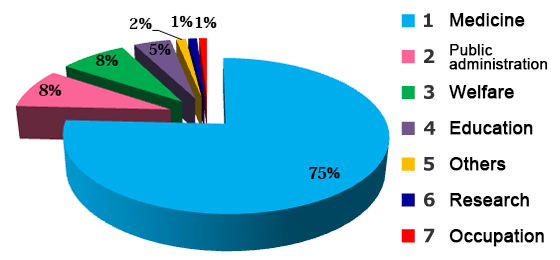 Total 862 people
Activities by ex-trainees
China
Dr. Zhang Xu in Ansahn City
Dr. Zhang Xu had strong will to support persons with disabilities and received short period training at NRCD. Dr. Xu is working energetically to support persons with disabilities of Ansahn City through home visit and educational programs.
Dr. Zhang (center) at University in USA
Iran
Mr. Pashai Mohammad
Mr. Pashai got injury in Japan and established NPO with a strong will to support improvement of life of persons with disabilities of his mother country Iran. He is addressing a variety of activities such as donation of wheelchairs and beds for people with spinal cord injury and other disabilities in Iran, conducting training program in Iran by inviting Japanese rehabilitation specialists, and providing training program in Japan for specialists of rehabilitation medicine of Iran. Recently, he and his NPO in Japan established a NGO in Iran and started activities to support persons with disabilities.
He received training with PTs from Iran at NRCD in 2016 again.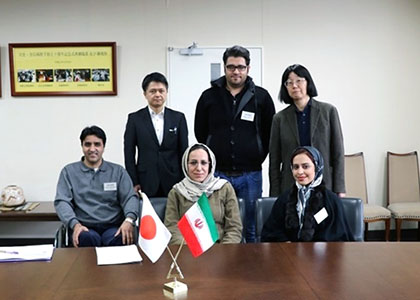 Mr. Pashai (the left of the front)and physical therapists from Iran at NRCD (2016)
---