Technical Collaboration to JICA (Japan International Cooperation Agency)
Technical Collaboration to JICA (Japan International Cooperation Agency)
JICA (Japan International Cooperation Agency) is an incorporated administrative agency and carries out support to developing countries through technical cooperation as official development assistance by Japan government. NRCD has been collaborating with JICA in 18 projects of the field of disabilities and rehabilitation since 1981.
Introduction of some of the projects
1. Group training course on Prosthetic and Orthotic Technique 1981~2010
 The group training course provided technical training programs for participants who engaged in fabricating prostheses/orthoses or education to provide the latest knowledge and techniques of prostheses and orthoses. Participants were expected to disseminate the knowledge and techniques to other technicians and relative specialists after return to their countries.
 130 trainees from 39 countries (Asia, Africa, Middle-East, Lain America & the Caribbean, and Oceania) participated in the training program.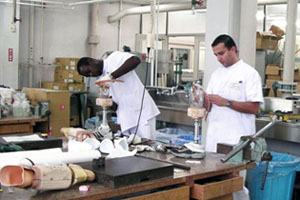 Technical training of fabrication of lower limb prostheses
2. Rehabilitation for Disabled People Project in the Republic of Chile 2000~2005

 The project provided technical supports to Pedro Aguirre Cerda Rehabilitation Institute in Santiago (national rehabilitation hospital for children) for improvement of rehabilitation services and promotion of social participation of the patients. NRCD dispatched 13 staff members and accepted 22 rehabilitation specialists from Chile. Training programs in Japan were carried out in collaboration with other institutions for children with disabilities.
 Outcome of the project is promotion of human resource development and establishment of community based rehabilitation. This project was developed to the south-south cooperation to other South American countries.

Staffs of Pedro Aguirre Cerda Rehabilitation Institute
3. Project for Human Resource Development of Rehabilitation in the Central and Western Region in China  2008~2013

 The project provided technical cooperation to disseminate knowledge and technologies on rehabilitation which were accumulated in Capital of China to 3 local targeted provinces by distance education system using TV. NRCD dispatched 5 staff members and accepted 47 rehabilitation specialists of the 3 provinces. The project was carried out in collaboration with Japanese Physical Therapists Association, Japanese Association of Occupational Therapists and International University of Health and Welfare.
 Rehabilitation specialists who received the distance education started team approach in the process of rehabilitation and conducted training programs in their work places.
4. Project on Strengthening of Rehabilitation in Myanmar 2008~2013

 The project provided supports to improve techniques of rehabilitation specialists and expand opportunities to access to basic medicine for persons with disabilities in Myanmar. The project was carried out at National Rehabilitation Hospital and Yangon General Hospital.
 NRCD dispatched 9 staff members and provided training programs to 17 doctors, nurses and physical therapists of Myanmar. Particularly, NRCD disseminated knowledges and techniques at training of trainers for spinal cord injury and stroke.
 Human resource development, information sharing inside the hospital and among other hospitals were improved. Services for patients such as provision of information and collecting patients opinion were implemented.

Myanmar National Rehabilitation Hospital
5. Project for Supporting Social Welfare Administration –Promotion of the Social Participation of the Deaf Community Phase 2 (Myanmar) 2011~ 2014

 The project was carried out to cultivate government officials in charge of social welfare administration through human resource development of people engaged in sign language interpretation in the future.
 NRCD dispatched 9 staff members and accepted 60 deaf people and teachers of deaf schools of Myanmar.
 Skills of people who engaged in instruction of sign language interpretation were improved and workshops and lectures on sign language were conducted in Myanmar.

Training of sign language interpretation in Myanmar
6. Project for Strengthening the Integral Rehabilitation System for Persons with Disabilities, Especially for Victims of Landmines (Republic of Colombia) 2008~2012

  The project was carried out to improve quality of medical rehabilitation services for persons with disabilities particularly victims by anti-personal landmine and unexploded ordnance which were used at domestic war for long period. Development of capabilities of rehabilitation professionals, making guidelines on rehabilitation of amputation and visual impairment and brochure to disseminate lights of persons with disabilities and related policy, and activities on urgent care were implemented.
 NRCD dispatched 6 staff members and accepted 18 rehabilitation specialists and government officer.
 According to the result of the project, a new project on social inclusion for victims of landmine is starting.

Developed leaflet for promotion of

lights of persons with disabilities
7. Rehabilitation Techniques (Prosthetic and Orthotic Techniques) (Libya) 2013~2014

  This project was started to provide technical support in the field of rehabilitation particularly, amputated persons in the domestic war of Libya in 2011. Technical training for prosthetic technicians , physicians and physical therapists were conducted.
 NRCD dispatched 1 staff and accepted 28 rehabilitation specialists.
In the period of the project, domestic situation of Libya became worse and the project has been stopped.
---