WHO Collaborating Centre
WHO Collaborating Centre
for Disability Prevention and Rehabilitation

Head : Yoshiko Tobimatsu, M.D., Ph.D.
 WHO (World Health Organization) works for global health matters as an organization of United Nation. Currently, 194 countries are Member States of WHO. Member states are categorized into 6 geographical regions (Africa, America, South-East Asia, Europe, Eastern-Mediterranean region and Western Pacific). Japan belongs to Western Pacific Region.
 A WHO Collaborating Centre is a national institution designated by WHO to support WHO's policy and activities for international health. Main role of a collaborating centre is to contribute to implementing WHO's program and to strengthen institutional capacity in countries and region.
 Since be designated as WHO Collaborating Centre for Disability Prevention and Rehabilitation in July, 1995, NRCD has been working under Terms of Reference and Work Plan of WHO.
1. Work Plan and Implementation
2. WHO Policy on Disability and Rehabilitation
3. WHO Publications and Guidelines
4. News Letters
5. Links
1.Work Plan and Implementation
NRCD carries out various activities of Work Plan as follows.
1 Development of knowledge and resources to remove barriers and increase access to health promotion and sport for persons with disabilities
2 Collection and analysis data of assistive products and technology
3 An exploratory study and review on support to persons with disability at disaster
4 Disability advocacy and the dissemination of WHO concepts and documents
Furthermore, we work in collaboration with WHO and other WHO Collaborating Centres.
2.WHO Policy on Disability and Rehabilitation
3.WHO Publications and Guidelines
4.Newsletter
Newsletter issued by Disability and Rehabilitation Team of WHO is available to read
The WHO Newsletter on Disability and Rehabilitation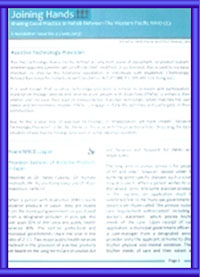 Newsletter Joining Hands issued by collaborating centres on disability and rehabilitation in the Western Pacific Region is available to read
Joining Hands
5.Links
---